Viber messaging changes all the concepts of mobile Ad possibilities. Apart from usual approach to a customer, there will be a beautiful visual appearance. Apart from usual message, send it in more interactive manner, which makes communication with a potential customer clearer and efficient.
More over your clients will be connected to the Internet at the moment they receive the message – it means that they can respond to your offer by visiting your website and finding detailed information about your services on the same go.
SPEND LESS EARN MORE

DO NOT MISS AN OPPORTUNITY

TO EXPLORE AND EXPAND THE WORLD OF BUSINESS

FOR YOU.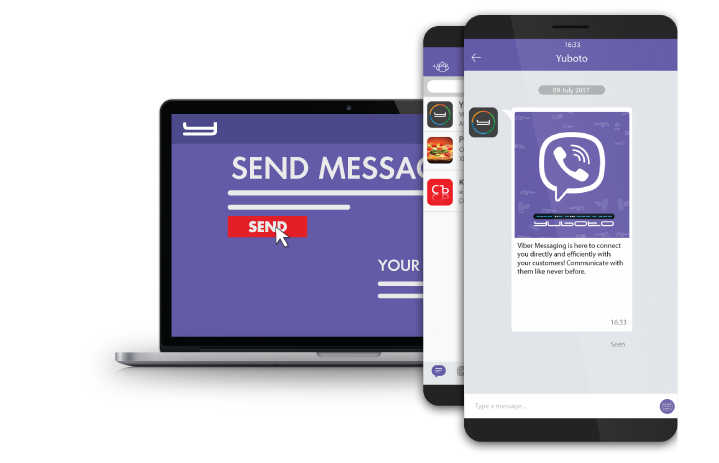 Key Features:
Messaging is performed via Internet and doesn't depend on mobile network operators, which makes it cheaper.
Viber Messenger is available for iPhone, BlackBerry, Android, Windows Phone and Nokia.
Send your messages with photos of your product and services and attract more customers.
People read messages attentively because it is a new type of advertisement.
Advertise your product and services all over the Earth. Target your potential customers in any geographical location.
In contrast with SMS and teaser ads, Viber messages may contain up to 1000 symbols.
Viber mass messaging doesn't break the advertising law because it isn't SMS. Absolute innovation in advertising sphere that matches your business needs; with lasting advertisement effect.
Customers will keep important information for sure; Sending posters, flyers, Videos or any other kind of pictures and text.
Viber Broadcasting through SBS Platform:
We can send your ad campaign on unlimited contacts in very short amount of time.
In your campaign you can send.
Pictures.
Pamphlet/Brochures.
Audio and Videos to everyone.
We can set profile picture as your brand/company logo.
There will be unsubscribe option with the message, to block that promotion message in future, this helps in anti-spamming.
Reporting
All of our campaigns are continuously monitored & we provide real time reporting showing number of impressions served, number of clicks received by your Ad as well.
For more information on Viber Marketing service please contact 94 76 7 555 5